The Purpose of Advertising
Advertising has one purpose – to sell your products.  Anything else is a waste of time and money, and that's that this article is about – selling your products.
Whether you're the CEO of a Bluechip company like IBM, or run a tiny local pizzeria, customer acquisition is the vehicle to growth, effective advertising is the key.
Effective advertising will result in:
More sales;
Higher paying customers; or,
All of the above.
To maximize your advertising dollar, you need to know what effective advertising is, and what it isn't.
In this article we're going to focus on Digital Advertising because digital has components of all other types of advertising, including targeting, text (copy writing), audio and visual.
What You're Going To Learn
In this article you're going to learn:
What makes certain ads superior; and,
The benefits to you when it comes to running superior ads.
Let's start with what effective advertising isn't, and some examples of poor ads that wasted time and money.
Poor Ads That Wasted Time and Money
Poor ads waste your time and money because:
You've spent time and money on advertising that does not bring in a return; and,
Poor ads can cause your customers to avoid doing business with you.
Hyundai Pipe Job
In 2013 Hyndai attempted to advertise its hydrogen-powered ix35 with clean emissions.  It's hard to think of an easier product to advertise successfully.  Yet, that's not how it went.
Someone from Hyundai's in-house advertising agency came up with the idea that advertising an unsuccessful suicide attempt was the way to go. 
The ad features a desperate man attempting to commit suicide by inhaling exhaust fumes while running his car in the garage. 
The "Aha!" moment of the ad was that the suicide failed because the emissions are 100% water.  Can you see yourself rushing out to buy a Hyundai after watching that ad? 
The ad was quickly pulled.  Time and money were wasted. 
You can view the ad here. 
Quizno's "Spongemonkey" Ads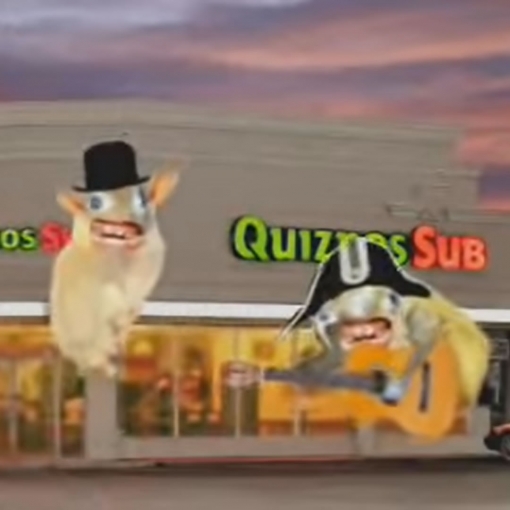 Quizno's "Spongemonkey" ads of the mid 2000's were among the most annoying of all ads in history of the English language.
They were even listed as #1 in the 10 worst ads of all time by Business Insider.
Spongemonkey's were two rather creepy singing and guitar playing rodents selling Quizno's subs.
Tens of thousands of phone calls flooded the Quizno's head office.  Sales dropped dramatically. 
The ads were so bad, store owners put up signs apologizing for the ads, explaining it was "Corporate" that created them and there was nothing individual store owners could do.
As a result of these poor ads and other poor corporate decisions, Quizno's decimated it's market share by over 90%. 
Most poor ads are not as horrible as these examples.  While these are extreme examples, as an advertising expert who pays close attention to the quality of ads, more than half of all ads I see underperform and detract from the full potential of the product advertised.
You can view the ads here.
The best examples of poor ads are displayed every year during the Superbowl. 
You may be surprised at this statement but the data supports this position. 
More than 80% of Superbowl ads don't increase sales because the techniques they use, most commonly humour, don't associate the product in a way that encourages a consumer to buy the product.
According to Adage.com – website specializing in advertising and marketing insight – "Most Superbowl mega-commercials have been called 'the equivalent of lighting money on fire' and 'an expensive vanity project for wealthy companies.'"
Remember, advertising has one purpose – to sell your products. 
It's not to create humour, wow with special effects or to become a resume piece in someone's creative portfolio. If your ad isn't selling your products, it's not useful. In the next section we'll talk about the anatomy of a superior ad.
Superior ads follow a proven sequence called the AIDA sequence. 
The AIDA sequence is extremely powerful because it's based on a sequential sales model that leads prospects through thinking and feeling stages to persuade them to buy your products.  There are variations of AIDA but regardless of the variations, AIDA is the root of all other advertising sequences.
AIDA is an acronym and it stands for Attention, Interest, Desire, Action.  The sequence is as follows:
In the digital space, "getting attention" is a combination of targeting and capturing the attention of your desired prospects. 
Prospects demonstrate interest in your products by actively reading / watching / listening your ads to learn more. 
To get attention, you must properly identify and effectively target your desired audience. 
Your website must be built and configured to work with your digital advertising efforts. 
Your website acts as an "on / off" switch for certain advertisements, based on landing pages created for that purpose.  You must create relevant headlines and visuals to capture the attention of your prospect once your ads are presented.
In today's high-speed world and hyper-advertised society, you have mere fractions of a second to capture the attention of your potential customer before they scroll down or move to another page.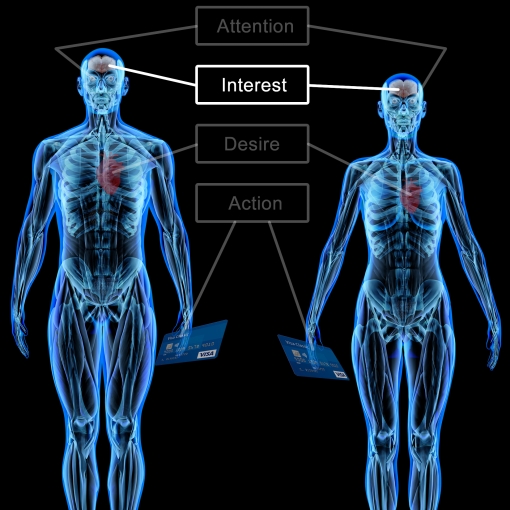 Once you've captured attention, you have seconds to create interest.  Interest is created by demonstrating a need or solution to a problem.
The following headlines are examples that have been used to create interest.
XYZ whitening toothpaste keeps your teeth clean and looking whiter than white.

XYZ umbrellas keep you dry and never buckle in the wind.

XYZ all season tires perform better on snow and ice than most brands of winter tires.
Demonstrating a need could be as simple as pointing out something about your product that is superior to competitors, or hold some other desirable attribute that would be beneficial to the prospect.  There are many ways to demonstrate a need.
Once you've demonstrated a need, you need to create desire.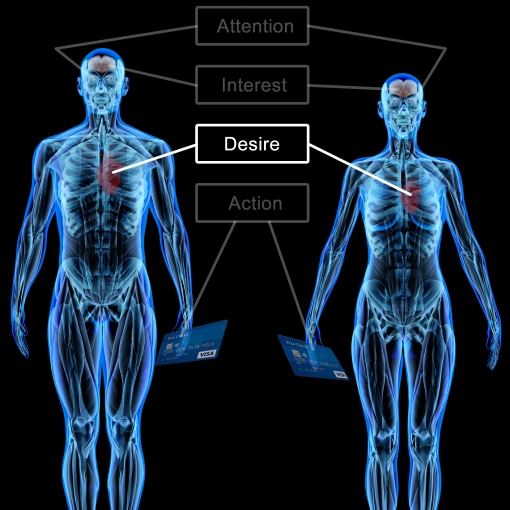 Desire is created by demonstrating how your product is the solution that satisfies the need or solves the problem. 
When you create desire, you're showing your prospect how your product can make their life easier, more enjoyable or more convenient than it would be without your product. 
Desire is increased when you prove your product can do what you say it can do.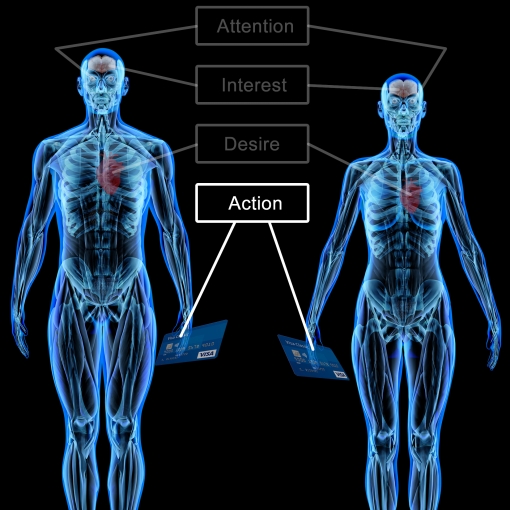 The last step in the advertisement is the call to action. 
That is, getting the prospect to take your desired step to move towards a sale.  That step could be to buy online, obtain a coupon, book an appointment, attend a location, or some other sort of follow-up action which creates a sale, or a commitment towards a sale.
The main benefits of running superior ads are:
Cost; and,

Reach.
Running ads that engage, results in a lower CPM (Cost Per Thousand) ad views. 
Lower costs for ads, with no increase in ad spend, result in many more people seeing and engaging your ads with no extra cost to you.
When done properly, your ads can bring in income 5 to 20 times (or more) than your ad spend over the course of your campaign. 
Running successful ads is literally a science that has roots in the psychology of influence and persuasion.  For maximum effectiveness, it's something that should be handled by professionals with a proven track record.